CRITICAL INFORMATION,

AT THE MOMENT YOU NEED IT

Active imaging gives you information that enables critical decision-making.
Active imaging with intraoperative ultrasound (iUS) gives you the real-time information you need, helping you confirm or update your operative plan, make informed clinical decisions, and achieve your organ-sparing procedures.
Learn about our intuitively simple active imaging solutions, designed to reduce the iUS learning curve and make it easy to elevate your procedures.
Up to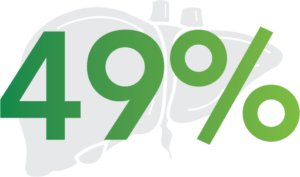 of surgical plans change when using
intraoperative ultrasound during hepatic resections1,2,3,4
Liver mass, visualized with I-Shaped Transducer
Pancreatic head mass, visualized with Biplane Transducer
Use of intraoperative ultrasound can influence
surgical decision-making in up to

of pancreatic resections5
DISCOVER THE NEW 

FOR LIVER PROCEDURES AND MORE
Enhanced Visualization: Improved algorithms for greater details around lesion borders, and automated high-resolution image settings.
Monitor Progress: Compare live images with previous scans simultaneously using Dual Live Compare and Picture in Picture modes.
Surgeon Control: Remote control allows surgeon control of the image in the sterile field.
Simple and Customizable UI: Intuitively simple, Tru-Sense™ touch screen with customized user profiles for Basic to Advanced usage.
Adjustable Monitor: View images in portrait or landscape orientation, with monitor on an extendable, flexible arm for small spaces.
On-Demand Videos: Instructional videos on the system to quickly refresh on image orientation and needle guide assembly.
High-resolution, real-time images with superb anatomical details.
Immediate, auto-optimized imaging using the No-touch Autogain and Auto Focus features.
Up to two hours of plug-free imaging.
Sterilizable remote control for convenient control of the system in the sterile field.
Small system footprint to fit in the OR.