FAST. FLEXIBLE. EFFECTIVE.
bkFusion is a fast, flexible, and effective MRI-ultrasound fusion prostate biopsy solution. bkFusion is clinically proven to have effective detection rates1, it has a fast and simple workflow designed for urologists, and it offers the flexibility to choose from a range of options for transperineal and transrectal prostate biopsies.
bkFusion is the only MRI-ultrasound fusion solution guaranteed to work with your BK Medical ultrasound system and is powered by unique Predictive Fusion® software for image registration that you can rely on.
With bkFusion, you can confidently target your biopsy with clear visualization of organ borders to help detect registration errors or deformations in real-time.
bkFusion is the only MRI-ultrasound fusion biopsy solution featuring BK's proprietary imaging algorithms developed with high spatial, temporal, and contrast resolution for advanced visualization.
INTEGRATED FOR FAST, SEAMLESS OPERATION
With bkFusion, complex doesn't have to be complicated. bkFusion biopsies have been recorded to be as fast as seven minutes.2
bkFusion's completely integrated, single-operator solution enables seamless and efficient use by a urologist, so you can maintain control throughout your procedure.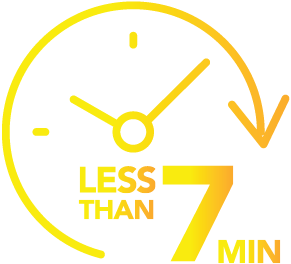 NO CALIBRATION STEP. NO 3D SWEEPS.
bkFusion makes prostate biopsy imaging effortless as there are no additional steps and no disruptions to the familiar biopsy workflow. You do not have to calibrate the system, and there is no need for any 3D sweeps. Experience this easy guided workflow wherever you practice, whether in the OR or a clinic.
Watch this video for an overview of the five simple steps in bkFusion.
CLEARLY VISUALIZE REGISTRATION ERRORS
Do you know how your MRI-ultrasound fusion solution is designed to avoid distortion or hidden errors?
As a result of differences in patient positioning during MRI acquisition and biopsy, one in six lesions are reported in a different sector than they appear during US-guided biopsy.3
bkFusion features innovative Predictive Fusion® technology for optimal reorientation of the supine MRI into LLD or lithotomy position, to prevent registration errors before the procedure begins.
Predictive Fusion® is the proprietary bkFusion registration method built for a familiar biopsy workflow. Rigid 2D slice registration eliminates distortion in the merging of 3D shapes.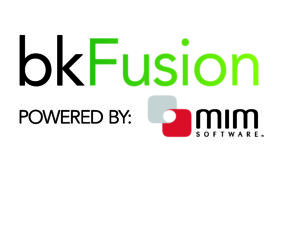 EVOLVE YOUR PRACTICE WITH BKFUSION
bkFusion is a scalable solution that can evolve with your practice through a variety of supported techniques including transperineal stabilized and freehand or transrectal endfire and sidefire.
Supported by a range of innovative sterilizable transducers, bkFusion harnesses the power of fully integrated MRI-ultrasound to provide next-level guidance for your biopsy procedures.
CONCENTRATE ON YOUR PATIENT, NOT YOUR FUSION SYSTEM
Focus on your patient and let bkFusion simplify your patient care beyond the biopsy procedure. As part of the urologist-designed workflow, bkFusion makes pre- and post-biopsy physician communication easy with simple data transfer options. All on your ultrasound system.
Transperineal Biplane Transducer with navigation sensor
Requires electromagnetic (EM) tracking
Transperineal Biplane Transducer
Interfaces with CIVCO EX3 Stepper
The transperineal (TP) approach to prostate biopsies has gained popularity in recent years. The TP approach can reduce the risk of infection and, with bkFusion, can be done in an office setting with local anesthesia or in the OR.
A study has shown that:
With bkFusion transperineal, patient tolerability is high and the infection rate is practically negligible.1
Choose between a freehand or stabilized approach
Flexibility to perform biopsies in the office or the OR
Fully integrated into a standard transperineal prostate biopsy procedure
TRANSRECTAL
SIDEFIRE/ENDFIRE
Unique Triplane Transducer and High-Resolution Endfire Transducer with navigation sensors
Integrated into a familiar, efficient transrectal biopsy workflow
Freehand biopsy procedure compatible with sidefire or endfire transducer
Requires electromagnetic (EM) tracking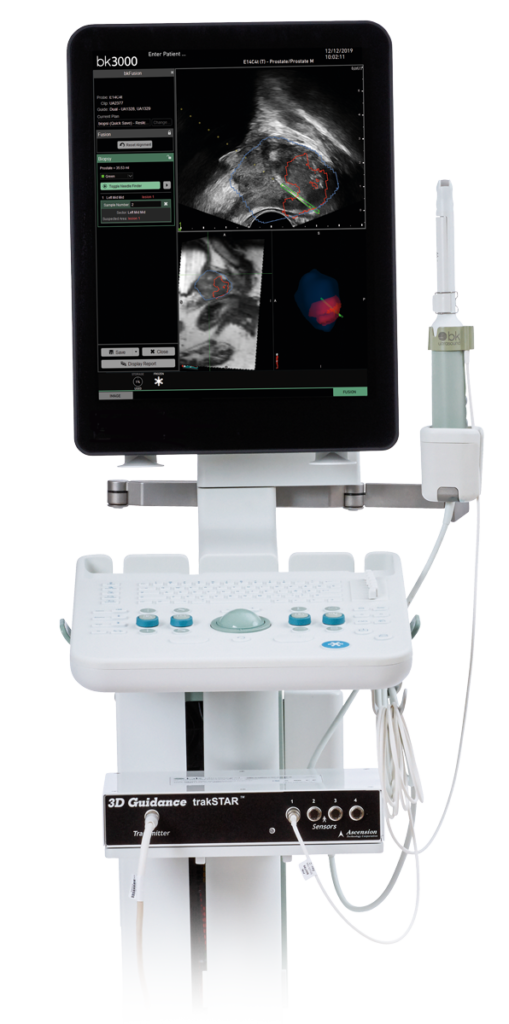 BK MEDICAL IS YOUR TRUSTED UROLOGY IMAGING PARTNER
With 40 years of leadership in imaging innovation for urology, BK Medical is the trusted ultrasound partner to urologists around the world.
The bk3000 ultrasound system, in combination with BK's specialized, sterilizable transducer portfolio, is valuable for a wide range of urology procedures ranging from diagnosis through treatment. Learn more about BK Medical's innovative Urology portfolio designed to support Urologist from the clinic or the OR.
bkFusion is not available in all countries. Ask your local representative about your options.
Immerzeel J., Israël B., Bomers J., et al. Multiparametric Magnetic Resonance Imaging for the Detection of Clinically Significant Prostate Cancer: What Urologists Need to Know. Part 4: Transperineal Magnetic  Resonance–Ultrasound Fusion Guided Biopsy Using Local Anesthesia. Journal of European Urology. 2021.
Data on file
J Piper, F Giganti, D Mirando, K Krawiec, AS Nelson, C Allen, MIM Software Inc, University College London Hospital; Evaluation of the impact of orientation differences between mpMRI and US in biopsy. Study presented at the European Society of Urogenital Radiology Association, Barcelona, SP.